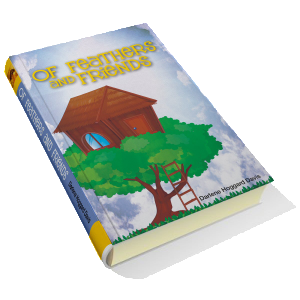 About the Book:
"Nobody loves me. Everybody hates me. I'm gonna go eat worms." 
While Tyler knew he wouldn't really eat worms, he did not feel loved. His parents sent him to live with his grandmother when they separated. Was he angry? You bet. Was he confused? Absolutely. Where did he fit in? He didn't know any more. 
After an argument with his grandmother, Tyler decided to run away. "I'll show them I can take care of myself." Tyler Andrews doesn't need anyone! 
Tyler grabbed his piggy bank and his Dad's Navy ring and ran out the back door. He ran until he couldn't run any further. Too stubborn to turn back, he walked further and further into the woods behind grandma's house, scolding himself because he hadn't thought this plan all the way through. And it would be dark soon. Tyler looked up and saw a flash of red. What was it? What luck! It was a flag waving from a window of a tree house. A tree house! 
Climbing up the ladder nailed into the tree, Tyler's resolve to take care of himself returned. Nothing would change his mind now. Really? What would happen when Cody and Jenna find him? What would happen when he meets Melody? Will these neighbor kids turn him in? What will he do with the wounded sparrow he finds beneath the tree house? 
Follow Tyler on his adventure to find his place in this world. Laugh or cry with him, whatever you need to do. You might just find you've grown up a little, too. 
Why I Wrote the Book:
When I started writing this book, I don't think I truly understood why I was writing it. I just felt the "need" to write it. Looking back, I can now see several reasons; I think it is one of what I call "God Nudges." One of those things that won't leave you alone until you do it. But why did God nudge me with this particular topic and at this particular time?
Well…I thought about it and I think I understand a little more now.
1. About the time I started writing this book, I was babysitting for my two little nieces a couple days a week. When their parents divorced, the whole situation of contact with them changed. Divorce doesn't just affect the parents; obviously it affects the children, but it also affects many others around them. I didn't get to see my nieces much after that (at least for a while) and I missed them terribly.
2. I was also substituting at the local elementary school at that time. A certain family moved into the area and a shocking abuse story involving them was soon discovered. I can't go into the details, but I did have some limited contact with the little girl at school. I will never forget her eyes; they were haunting, filled with fear. She would answer school-type questions, but never did she let anyone get close to her or let anyone really know her.
As I started writing this book, I would write a chapter a month and then read it to some of the classes I subbed in. The kids would constantly pester me as to whether I had the next chapter done so they could hear it. I think many of them could relate to the characters in the book.
3. There are many children (and adults, too) who are suffering in one way or another. And we see very little of their suffering; much of it is hidden beneath the surface. If we have a way to help them, a way to show them we care, we have an obligation to help them. God has given each of talents and gifts to use and He will lead us to help others. Of course, we have to listen, trust and obey.
I had to write the book. To give the children a voice. To let them know I care. To show others that we need to look beneath the surface, behind the eyes, and do what we can to love them.
Endorsements:
You'll Love Tyler – Darlene Hoggard Davis has created a marvelous, real-to-life character in Tyler. Who among us hasn't felt like an outcast? The story of his journey will resonate with any child or adult. Well done! – Melanie Rigney on May 10, 2014
My students were fascinated with Mrs. Davis' book. They identified with Tyler's feelings and felt an emotional connection throughout the story. They begged to hear more. This is a book that tugs on your heart. – Kathy S., Deckerville (MI) elementary school teacher. 
This is a wonderful story. I really enjoyed it myself, but I actually bought it for my grandchildren. I'm sure they will love it too. – Sue N. (Amazon.com)
I was given this book as a gift, and I loved it! It is a great story about a young man who just wants to be loved. Life isn't easy, so he tries to make things better his own way. Not until he finds people willing to help him does life get better, This book is written for children, but the message is great for everyone. I recommend this book to everyone who wants to be encouraged. – Sara H. (Amazon.com)
Enjoy the Jigsaw Puzzle. Move the pieces with your mouse, rotate them with your mouse wheel of the arrow keys on your keyboard.